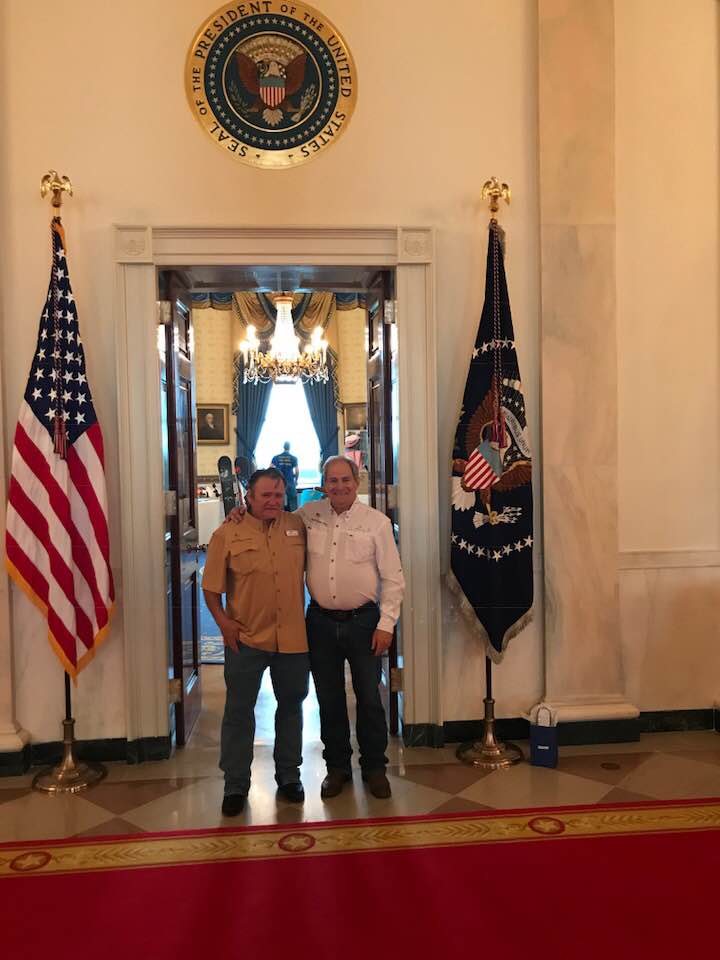 White House Calling -yeah right!
Well, Friday, June 29, 2018, started out a normal day, I was busy getting ready for the 4th of July Parade that I was the coordinator for with the Brewster Chamber of Commerce. Also Salmon Season was opening on the Columbia River here on the 1st of July.
I received a phone call and caller ID said unknown number, well I usually let the machine pick up those calls but since I was getting calls from people asking about the parade I answered. The lady on the other end said she would like to speak with the one in charge of Mauk Fishing Stuff, and I identified myself and she says she is calling from the White House, and I said sure, the White House in Washington DC? and she says yes.
Well expecting them to ask for my support or something I asked what did she want and she told me that my Company was invited to come to the White House and represent Washington State at the Made in America Showcase.
 WOW, I was not expecting that at all and I am waiting for something like, we will send a check and you deposit it and send us back so much or some other type of wanting to get me to send them money scam. So I ask her if they were going to pay my way over and she says no, but they will feed us on that day.
I said something like, well my people will not believe that the White House called, and she said they will when I show them the email that they will send with more information.
She says I do not need to answer right now but within 48  hours they need an answer. So I gave her my email address and said I would get back to her.
The first thing I did was read the email she sent-
here it is:
Good afternoon Mike,
Thank you for speaking with me regarding possible participation in the Made in America Product Showcase on July 23rd at the White House. This event will feature made in America products from overall 50 states.  The showcase will take place here at the White House with members of the cabinet, members of Congress, White House Senior Staff, and the President. We would like to invite your company and two representatives to come and display your product here at the White House. Attached are some news clips from last year's event  Please let us know if your company would be interested in participating within the next 48 hours.  If you have any questions or concerns please feel free to reach out.
Sincerely,
Alexandra Veletsis
Executive Office of the President
Office of Public Liaison
WOW- so this is the real deal.
Why in the world would they call my company, I am a small outfit with no employees and am not political at all.
I called the airlines and checked for flights and the approximate cost and making sure it was even an option for me to go.  Then I called my older sister for her advice and she says well I need to go, no matter what the cost, but she could not go with me.
 I was going over it in my head and I knew this is a once in a lifetime opportunity, and yes I need to go.
 I call and reserved a flight knowing I can make 1 change, no cost no problem. Then I call Ernie by brother and told him and told him I could not really afford to pay his way but he says well what if he can swing it I said Yes, I would love for him to go with me and experience the event.  He called later that evening, after talking with his family and he said he could come with me. So we called the airline and got us both tickets to go on Sunday, returning Tuesday evening
Deciding what to take was a major undertaking.
 Alexandra told me we would have an 8′ table and no backdrop, but they would supply an easel. Not having an 8′ table to work with, I ordered one and set it up in my front room so I could concentrate on it. Fortunately, I have gone to several trade shows and this time I would not be selling anything which is tons easier. My products would just be for show. I have Made in the USA stickers of all kinds already, and plenty of decals, banners, and labels so I didn't need to order anything.   After many hours of setting up and resetting and adding and taking things away and making new covers so they would be perfect for showing my products.
 Deciding which tackle to use to show how the covers worked was very important, as I would basically only would use  4, 2 on each of the Fishing Poles I was going to take to display the covers showing their actual use.  LEO's Flashers out of Oregon has always been a big supporter of me and a big President Trump fan, and  I knew he had made a flasher that had TRUMP 2020 on it with the American Flag on the sides.  I make covers to fit all 3 sizes of the Flashers he makes and sells. I contacted him and he said he needed to make me a couple and they got here in time to take to the White House. Free Drifter Flies  – Casey Cooper, out of Wenatchee had given me some of his beautifully tied flies and I used one of those in a cover. Super Flies out of Idaho had traded some Flashers for my covers and they are very colorful and are made in the USA, so I used one of those along with a plug he makes.
Having the table looking the way I wanted I needed to pack everything in a suitcase and have it be the only one going into the White House. All packed I weighed it and 48pounds! whew as you know over 50 is an extra $75.00.
Then off we go on our journey leaving Wenatchee Airport at 11:00 am going to Seattle and then on to Washington DC Reagan International arriving at 9:00 pm.
 Everything went smooth and we got our room and finally got to bed and sleep.
We hailed a cab about 6:30 as we didn't need to be there before 7 and of course we were early but were 2nd in line and others started coming in.
We were asked for our name so they could make sure we were on the list and right off, 2 gentlemen from Shaullus Pen out of Nevada, one of their last names was spelled wrong on the list and they had to get a special ok from "inside". Ernie and my name were on the list and we waited, we were told for the bomb-sniffing dogs.  It was warming up  and muggy and it started to rain and we were hearing stories of how it rained hard on them on Sunday, did I mention that in one of the first emails that clearly said to be sure to read  entirely, I somehow missed that we could come Sunday and set up our table  and be ready for Monday. I so wished I would have done that as it would have given us another day in the White House. But I contacted her as I didn't want to pay to change the reservations and she said we would have plenty of time to set up before the doors opened on Monday morning.
We got past the first gate and went to a tented area on the lawn before we got into the White House and they needed to check our bags – unpack and repack to make sure we didn't take anything harmful in. Then we were patted down and went through a metal detector.  Then we received our badges. We were checked and IDed and gone over 7 times! They wanted to make sure and each one assigned wanted to make sure.  We were assigned our Aids that were to escort us into the White House.  Our Aid, a young Lady with an umbrella, did I say it was raining pretty good? anyway, she gave us the tour information like where the President's Family lived and the First Lady's office and then into the White House. So Beautiful.
We set up in the state dining room where The President had recently hosted Emmanuel Macron of France, where Reagan and Gorbachev had famously met, and where the painting of President Lincoln hangs prominently over the fireplace. What a room to be in. So there were servants with pastries and coffee and juices on one side and our tables around the walls in the beautiful room. We were almost directly under the painting of President Lincoln by the grand fireplace. First thing I noticed was the table was only a 6′ not 8′. We were going to need to downsize a little bit, better too much than not enough.
After setting up the table and realizing it was to cluttered we removed a lot of covers and made it more presentable.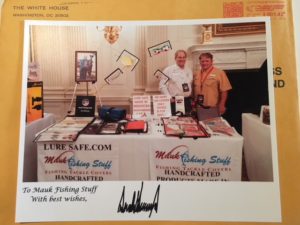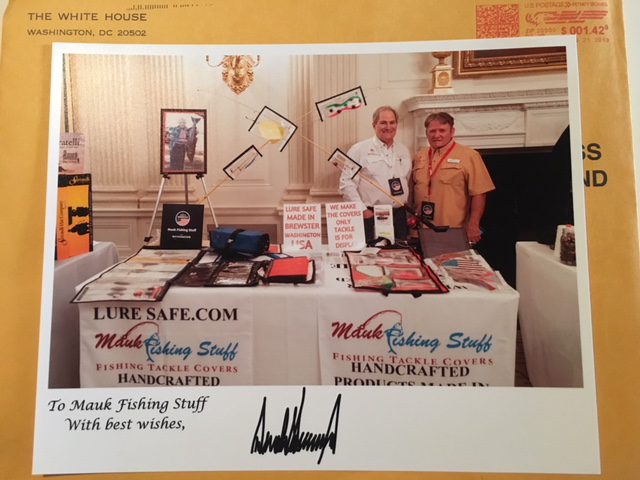 Then we were off to enjoy the food and to check out the others from around the United States. Everyone was so friendly and eager to tell about their company and what their response was when they received the same call we did. It was so surreal that we were in the White House in the same rooms all the President's and their families had lived during there service as President. When I asked where the restrooms were an Aid showed me the way, it was downstairs in a room with a library and a beautiful sitting area.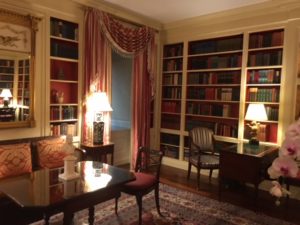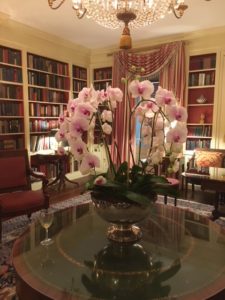 Later in the day at the lunch hour I went to use the restroom again and asked if there was another and a Secret Service man showed me another that was also downstairs but in the room that had China cases with China used by each President. I was looking at China used by President Lincoln, and President Johnson and the others, it was totally amazing.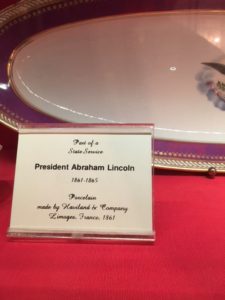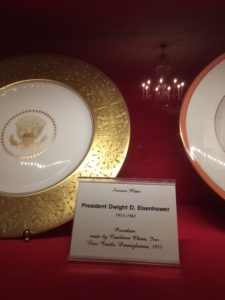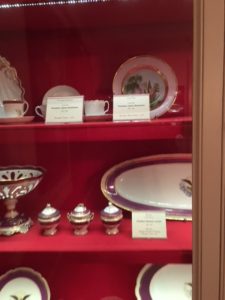 The event began and no one had name tags on so we had no idea who is who. They were all friendly and we treated it like a trade show as they were walking by we would say hi and they would come over and talk. It was funny to see the ones that did fish as they would visit for a bit. Telling stories. You could tell when someone of real importance came in as there were cameras and people flocking about. We had a young Aid that took a liking to us as he to was a fisherman, told us who was who. He was very helpful the entire day and was actually the one that escorted us out of the White House at the end of the day. We were not to linger nor stray away, we came in as a group and left as a group. All so organized and we knew we were being watched by the not so secret Secret Service people.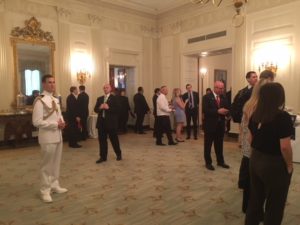 The Secretary of Education came in and was surrounded by Congressmen, us finding out later that it was an opportunity that most did not have to casually get to speak to the Secretaries. The Secretary of Commerce arrived and he is a jolly gentleman and when I got a chance I went to him and asked if we could get pictures and he was more than happy to oblige. He even grabbed the Trump 2020, Leo Flasher, we had on the table and held it up.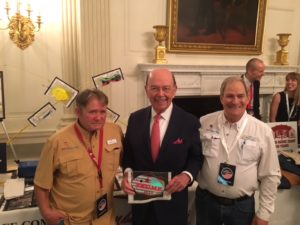 Secretary of Commerce Wilbur Ross
  Unfortunately, we heard Vice President Pence was in the other room but never made it to our room. The President may have come in while we were sitting waiting to hear him speak in the other room, which is really a drag if that happened.  But I can not get anyone to verify that that actually happened. See after lunch we realized they were setting up in the foyer for the President to speak and Ernie grabbed  2 seats in the second-row. We could not miss the opportunity to hear him speak,  and not knowing when he would arrive, we stayed in the Foyer and not at our table. Hindsight I should have stayed at the table while Ernie held the chairs. Oh well.
We were asked if we had something we wanted to give to the President as a gift and not thinking we could even do that I had nothing prepared, so I got the best thing I had on the table the LEO FLASHER  that has the TRUMP2020  and the Flag decal and our cover we make for them I added a business card and the flyer that my sweet cousin Beth and her husband made for me with their company CEO Productons out of Texas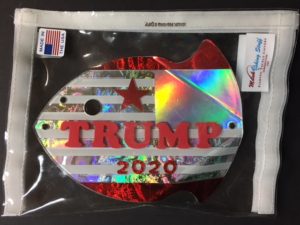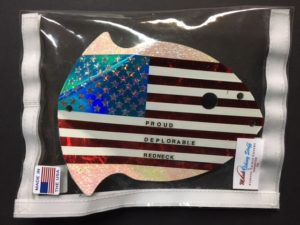 President Trump's speech was so down to earth, such a pleasure hearing our President honoring the businesses that make their products in America.  It was a proud moment for me.
I knew going in that this is a one and done deal and even so I did not get enough pictures but I have the memories and now writing this all down I can relive them and others can read them as well.
I have always believed we live in a GREAT AMERICA,  and President Trump and his administration are doing all they can to support American made businesses and products. I AM SO PROUD TO BE AN AMERICAN AND SO BLESSED TO HAVE HAD AN INVITE TO OUR NATIONS CAPITAL AND WHITE HOUSE. It really does not matter who you voted for or your beliefs, if you do not believe in the American products and the American workers then you do not belong in America. BUY AMERICAN,  the products are always BETTER!
I am so grateful to the one that helped so much throughout the entire event and still answers my emails,  Alexandra Veletsis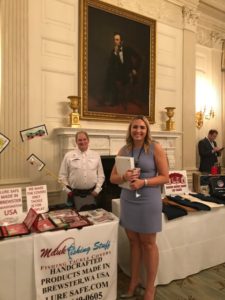 Here are some links to the event:
https://www.whitehouse.gov/articles/see-great-american-made-products-across-50-states/?utm_source=facebook&utm_medium=social&utm_campaign=wh
https://www.facebook.com/sharer/sharer.php?u=https%3A%2F%2Fwww.facebook.com%2FWhiteHouse%2Fvideos%2F1779468538807538%2F&display=popup&ref=plugin&src=video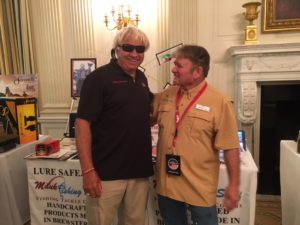 Jimmy Houston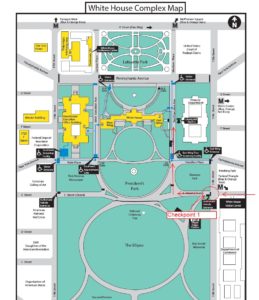 Map with instructions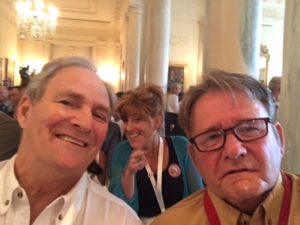 Photo bombed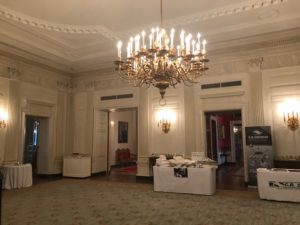 Room we were in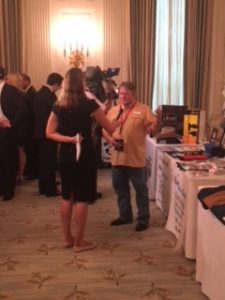 TV interview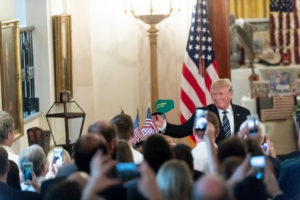 President Trump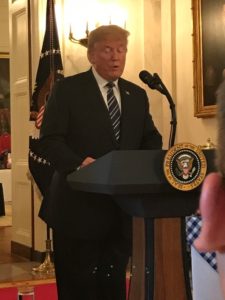 President Trump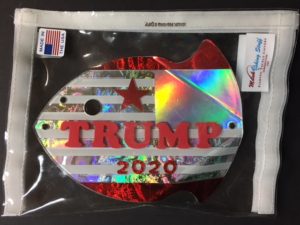 Gift to our President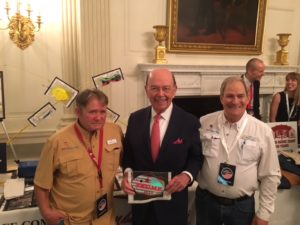 Sec. of Commerce Wilbur Ross
Today, President Trump welcomed vendors from all 50 states whose products are made right here in the United States of America. #MadeInAmerica

Posted by The White House on Monday, July 23, 2018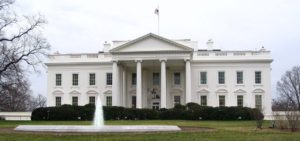 This week, President Donald J. Trump hosted his second "Made in America" product showcase at the White House. In a tribute to American workers, President Trump invited companies large and small from all 50 states to join this year's celebration on the South Lawn.
See what great product represented your state below.
What does it mean to be 'Made in the USA?'
For a product to be called "Made in the USA," or claimed to be of domestic origin without qualifications or limits on the claim, the product must be "all or virtually all" made in the United States, according to the Federal Trade Commission. "All or virtually all" means that all significant parts and processing that go into the product must be of U.S. origin.
That is, the product should contain no—or negligible—foreign content.
'American heart, American sweat, and American pride'
"I remember, when I was growing up, I'd see 'Made in America' all over the place," President Trump said at the showcase. "Everything had 'Made in America.' And we're starting that again."
That story of American renewal was one of three big messages the President delivered:
American manufacturing is back. Nearly 350,000 manufacturing jobs have been created since President Trump took office. An industry survey shows that optimism among U.S. manufacturers recently hit an all-time high, as did expectations for employment growth and capital investment over the next year.
For years, Washington put workers last. "They did nothing. They let our factories leave. They let our people lose their jobs," the President said. "That's not free trade; that's fool's trade." But under President Trump, all nations are held accountable and must play by the rules.
Tough action is already paying off. The Trump Administration secured key changes to America's trade agreement with South Korea, including provisions to increase U.S. automobile exports. And just this week, President Trump announced that the European Union would work with America toward zero tariffs, zero non-tariff barriers, and zero subsidies on non-auto industrial goods.
The businesses who joined President Trump at the White House this week are part of these success stories. "We are here today to celebrate the greatest products in the world—products made with American heart, American sweat, and American pride," the President said.
Boots from Texas, snowboards from Colorado, F-150 trucks from Michigan, baseball bats from Pennsylvania—see some of the great products that are being made right here in America: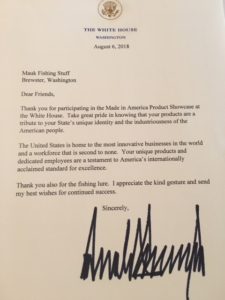 Signed letter from President Trump
Visits: 1310
Today: 0
Total: 73601