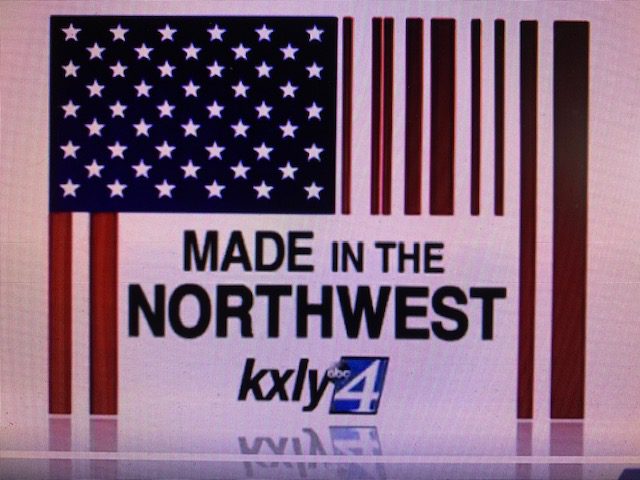 April 20, 2019
Lots going on and I have not updated my blog in a long time.
An amazing thing happened, I was lucky enough to be asked by Mike Carey with Northwest Fishing reports to go fishing for the weekend at Billy Clap Lake down below Banks Lake. I did not realize that I was going to "the guest" for a TV show. Long story short, I accepted and met Mike and Aaron down at the boat launch, and we had a blast fishing and I got to show off my covers, and catch a few fish and actually fish a lake I had never been to. It was a beautiful weekend weatherwise. Mike and Aaron are a kick to be around and it was fun to see how they actually film the TV program and learned quite a bit about their industry, which is difficult, to say the least, and takes many man-hours to produce the show and the marketing is a huge undertaking.
The next day we were joined by John Kruse with Northwest Sportsman radio. I was lucky enough to have him interview me and he put that on his radio show not long after. I will put that show link below, on here as well. Be sure to check out John Kruse on the radio. Some great local and regional information every Saturday on select radio stations! http://northwesternoutdoors.com/
Is was really interesting to me, listening to the 2 talk about their businesses, one radio, one TV and what direction they are both going.
It was a very fun weekend and the film is on the link here.
It turned out excellent I think.
Ok so about doing KXLY MADE IN THE PACIFIC NORTHWEST a segment that KXLY has been doing for quite some time now. Well after my trip to Washington DC last year I saw that they had run a story about Kuma Stoves out of Idaho that was selected to represent Idaho in the Made in Ameria Product Showcase. But they never contacted me, which was very disappointing as I am in Eastern Washington and never heard a word from them.
I had sent the media release to all the TV stations in Spokane and the newspapers and received no response.
Well, Derek got ahold of me and explained that they had done a segment with KUMA stoves earlier and when Kuma got selected for Washington DC they got a hold of Derek and since he had already interviewed them he ran with that.
I still do not understand why the media and all were not more interested in talking with me the small company in Eastern Washington getting invited to represent the state. I thought it was a pretty big deal, but with the politics and media these days it is a very sad state of affairs in my mind.
This should have been Headline news across the State. the local newspaper did 2 really great stories on the front page with interviews of us and pictures, it was great and the Brewster Chamber of Commerce had me as a guest speaker telling of my experience. The ONLY politician that got ahold of me was Congressman Dan Newhouse, our district representative, and they told me congratulations and Dan was not going to be in DC the day of the event, but he was coming in the next day and they invited us on a special tour of the Nations Captial Building and he wanted to congratulate us in person. So that was an honor as well. That is a story in itself and I will write that up soon.
So anyway these 2 shows actually aired the same week. how that happened I do not know, but it did.
To say I deserve this I do not know.
I am a small business that has designed a product or now lots of products to help the fisherman keep their tackle visible and out of the tackle boxes. I also created a pole wrap. Believe it or not, I do not care, but I did not know that others had this product, not many but I did find some colored ones at bass pro. but I did not copy them. Plus I wanted clear to see what is inside without removing them.
My BIG claim is that we are made in America and 99% of my materials are made in the USA as well. Some of the Thread is actually German made.
Anyway I have come up with a new idea and with the help of Captain Dave out of Spokane Valley I am designing a product that may actually be patentable.. so now after some research, I can not market it, you can't patent something that has been on the market, I need to take it to trade shows and such to see how it will do then if I think it will take off I need to search for patents, and I hear it is very spendy so it may not happen..
My brother Ernie reminded me of my age and asked me if I wanted to spend my year's sewing or out fishing and enjoying the life that I have left.. well I do not need to tell you the answer to that…. see me on the road and on the water!
Mike Mauk
Owner
Mauk Fishing Stuff
LureSafe.com

Northwest Fishing Reports Billy Clapp
https://youtu.be/MbEO5mJzhrM
https://www.kxly.com/…/made-in-the-northwest…/1065931589?fbclid=IwAR1iKy9lMRKZ4KdjkkbUvNAiue6E0kQ_aMV7FXp9s4DrtlVf78fNNt3KHI8
Be sure to check out John Kruse on the radio. Some great local and regional information every Saturday on select radio stations! http://northwesternoutdoors.com/
Visits: 371
Today: 0
Total: 73601